One community project close to our hearts, is through our affiliation with Mackay Gymnastics.
Not only do we provide staff for sausage sizzles and canteen rosters, but our Business Development Office – Wally Imrie is President, to this non-profit organisation.
It is with gratitude that the Mackay community should also note the extent that the Club Committee Members have worked tirelessly to finally achieve the Club's 20 year plus dream of building the current Mackay Gymnastic Regional Facility that exists today. One that is capable of hosting Regional to State competitions, and a marked improvement to the existing 2x split sheds from which they currently reside in. Something that made headlines back in 2011 when the Club's highest representative Claire Black represented Australia for the South African Gymnastic Federation Games, and ranked six in the National Gymnastics Competition, when she had to train in woeful conditions, yet still make the National Team. Today Claire is one of a number of home grown talents to emerge from the Mackay Gymnastics Club, & whom now coaches to train our Gymnastis of the future.
The club was also privy to have one of it's Head Coaches recognized by Industry peers, and named 'Coach of the Year' for Queensland in 2013.
All these elements are why we believe the club not only needed our support over the years, but one that we are happy to continually support.
Sponsoring the:
Halloween Sausage Sizzle
September Bunnings Sausage Sizzle
& Awards Night Trophies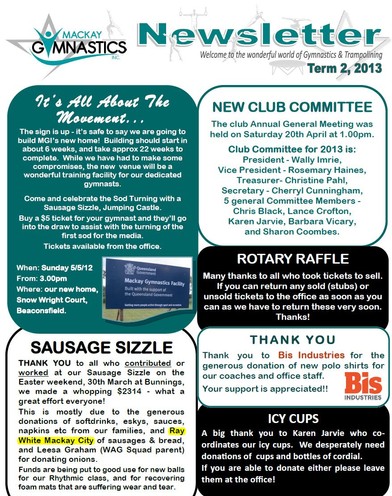 Mackay Gymnastics Newsletter