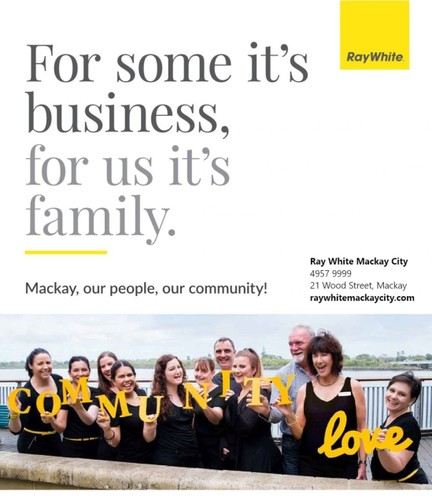 LOCAL CHARITIES, EVENTS, AND CLUBS
Ray White Mackay City is a proud supporter of local charities, events, and clubs.
Through the years we have also supported on a regular basis, The Leukaemia Foundation by hosting a number of World's Greatest Shave & Colouring Events 2008 & 2012, through to supporting the local fundraiser at the River2Reef, with our participation in the World's Greatest BBQ Competition.
Been a Host, for the Cancer Council Girls Night In, RSPCA Cupcake Day, and been a continuous participant in Harmony Day celebrations from 2011.
In 2013-2014, we supported a number of Mackay Cystic Fibrosis movie nights; participated in & sponsored our team for the Oxfam Australia Brisbane 100km Trailwalk; held an Australia's Biggest Morning Tea for Cancer Council; supported the local Relay for Life; sponsored the Andergrove State School & Slade Point State School homework dairies; participated in the Queensland Country Health Fund Corporate Teams Triathlon fundraiser to name a few.
2014 was also a big year for us, during our year of 'Get Healthy', where our office after two years of participating in weekly PT classes 'up the ante' & set goals to participate in the Beach to Garden Fun Run, Mackay Marina fun Run, & Run for IM Life. And for our Heads of Departments, led us to have participants in the Gold Coast Marathon, & Townsville to Cairns Bike Ride, all in the name of fundraising & fitness.
Mackay's City Heart Street Parties ran for three consecutive years, and we soon became very well known for our themes after the inaugural 'Balloon Bursting challenge' 2014, followed by our 'Minon photo booth' 2015, & Monster's Inc 'Scream Machine' 2016, all provided free of charge and run by our staff for the local community, which had up to 30,000 attendees visit the event.
Our major community drive, came when one of our staff members children created #ProjectSk8Park, and petitioned local, state & federal government for two state-of-the-art multifunctional recreational parks incorporating all-wheel facility access for the youth of Mackay. We sponsored their Skatescape Events for two consecutive years and aided in financing their petitioning and marketing costs for the petition through to the 'Learn to Skate' promotions, to help get the two boys to the now completed facilities Sugarbowl and Camilleri Street District Park & Youth Hub. They also were instrumental in helping to secure the first State Titles held at the Sugarbowl in 2019, with Mackay securing the event for three years. The state event 'Rumble on the Reef' 2019 event also proudly supported by Ray White Mackay City.
During 2018-2019 are staff members were highly active in a variety of community committees:
Secretary to the Mirani State High School P&C
St.Francis Xavier Tuckshop Volunteer
President and Committee member to Mackay Gymnastics
President and Committee member to Slade Point Neighbourhood Watch Community Group
Rep Convenor for Mackay Netball Association
2018 saw us sponsoring Triple Threat Theatre Academy: The Phantom of the Opera show; Art Space Articulate: Postcard Exhibition & Competition; Mackay Show 2018: Art on Show & Competition; Artist in residence: Owlet aka Cara Sanders, Event Organisers & Volunteers for #Skatescape2018; Sugarbowl: Rumble on the Reef – QLD State Championship of Street Skateboarding; Musical Moonlight Soiree – Lamberts Beach Event; Crossroad Arts All Abilities – Loose Ends Production; Special Children's Christmas Party 2018; QLD Blue Light Association – Disadvantaged Children's Movie Days; Whitsunday Anglican School P&F – No Man's Land Film Festival; and A Little Ray Of Giving Hamper for the Mackay Women's Shelter.
2019 we maintained our committee positions and provided assistance with the following events Slade Point Water Tower Mural; Musical Moonlight Soiree on Lamberts Beach; #SplashFest – Lamberts Beach Event; Artist Talk in the City Heart; QLD Blue Light Association – Disadvantaged Movie Day Out; Drug Arm – Matters of Substance manuals; Community Mental Health Support – Underprivileged Children's Circus & Movie Day; Mackay Cutters – Change the Game sponsorship; & Special Children's Christmas Party 2019.
2020 saw a lot of work behind the scenes with lockdown in force during Covid, and community work delivered online and phone to ensure not-for-profits like Mackay Gymanastics were in the position to reopen via our work as committee members and grant writer securing over $40k in grants; support roles with Rumble on the Reef 2020 – QLD State Championships for Street Skateboarding, and member of Marian State High School P&F. Our continued support of the Special Children's Christmas Party.
Whilst we might not have the biggest profile by means of being a major sponsor, we believe our financial sponsorships and community volunteering, all aids in facilitating community growth to those smaller charities, events & clubs, that can often get overlooked and overshadowed by the larger fundraising campaigns run held on a state, & national level.
LIVE…LOVE…LOCAL!