Have you also heard about our 'Pop-Up-Auction Events' being held throughout 2016?
Pop-up Auction Events, conducted by the team from Ray White Mackay City, will be seen as the 'New Events' to the Mackay City Heart calendar throughout 2016.
Mackay City Centre has never looked better, & as we gear up towards making the start of the year a new pivotal point towards regrowth, it's wonderful to see people here enjoying our completed revitalised city centre.
Come along and see how Ray White Mackay City is taking Auctions to a new forefront in Mackay.
We have recently held two events so far this year. In total the two events have secured comforting results for our clients, with:
9 Sold
3 Received bids
2 Moved to our Rental Division
With the wet season & rising temperatures affecting our township, you would have seen our Pop-up Auctions appear in a random 'empty shop front' venue. The first being in the same vicinity as our building, located at 21 Wood Street. Weather permitting, you will see these transition into other empty shop front locations, until the wet season converts to a cooler change, where we will be surprising you throughout our appearances in the City Heart.
We have 5 more Auctions remaining for the first half of the year! Make sure you contact our Office on 07 4957 9999, to find out where the next location will be held for our Monday 15th February Auction.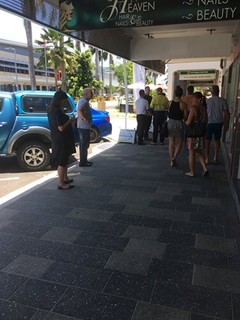 Our Pop-up Auction Venue fills up quickly